Manual URL Redirects Module
Avoid 404 not found pages and optimize your SEO on your website creating as URL redirects(301, 302, 404) as you need.
Compatible with: Prestashop v1.6 ó v1.7
PAYMENT

We accept Visa, MasterCard and American Express.

BEST PRICE GUARANTEE

The best choice for high quality at good prices.
Manual Redirects
This module allows you to redirect an old URL to a new URL easily and quickly.
This procedure is very useful to avoid 404 type errors that occur, for example, when deleting a category or product. In this way, if a customer tries to access an old URL, they will be redirected to the new one, avoiding losing potential sales.
404 pages (not found) can cause a lack of trust in your website, in addition to negatively affecting SEO. If your website has pages that cannot be accessed, this is your module.
What does the manual redirects module provide?
TO YOU
Create your own 301, 302 or 404 redirects
Avoid losing customers for not being able to access your website
Optimize your SEO in search engines
TO ITS CUSTOMERS
Optimization of the customer experience by not finding non-accessible pages on your website
Installing the module
The procedure is simple, and you only need the compressed file of the module.
Module compatible with version 1.6 or 1.7
Even so, it is necessary to meet some minimum requirements to guarantee the functioning of the module:
To start the installation, access Modules and Services and look for a button called Add new module, on the top right.< /p>
Click on it and a tab will open just below it with the Select a file button on the right.
Click on this and a file explorer will open,where you should search for the module's compressed file. When you've found it, select it, and click Open.
Finally, click on Upload this module, to carry out the installation.
Configuration of the manual redirects module
Once the module is installed, if we enter to configure it we will see that only one option appears to activate or deactivate this module.
When installing the module, a new tab is created within the Catalog, from where the URLs are managed. To establish the redirections that we want to be made, we must enter Catalog > Manual Redirects.
To add a new redirection, click on the + icon in the upper right corner.
Pressing it will open a new window to create a redirection.
URL redirect
Old URL
The old URL is entered in this field, that is, the one we want to be redirected.
New URL
The URL entered in this field will be the one redirected to when the above URL is accessed.
In both fields, the URL that we want to write must begin with /. That is, if the URL to redirect was www.modulosprestashop.com/modulos, we should only write /modulos.
Redirect type

301 Moved Permanent
If you apply this type of redirection to an already positioned URL, the old one will be considered obsolete and will be replaced by the new one.
302 Moved Temporarily
With this type of redirects, we temporarily redirect one URL to another. That is, unlike the previous one, it will not be definitive. This means that when we remove the redirect, the original URL will retain its SEO ranking.
404 Not Found
This redirect will cause the browser to report a 404 so we can work with it in Google's search console but it allows us to display a page of interest.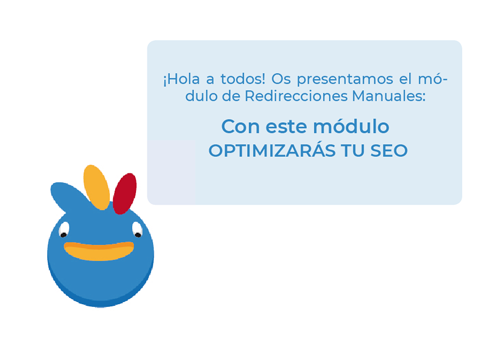 Video
16 other products in the same category:
This module allows the store to manage and collect the Equivalence Surcharge to those customers who, due to their tax characteristics, are legally subject to it.
Compatible with: Prestashop v1.6 or 1.7
This module will allow you to show in the basket, at the time of purchase, a notification for a series of specific products.
Compatible with: Prestashop v.1.6 or v.1.7
General Conditions of Sale and Contract Module
This module will allow you to send an email, with a customer's order confirmation, a copy of the general conditions of sale of your website. This will be included at the end of the email.
Compatible with: Prestashop 1.6 (v1.6.1 onwards) or 1.7
This module allows you to offer the customer offers and products related to the product that you are visiting at any given time, in a way that expands the possibilities of selling other products.
Compatible with: Prestashop v1.6 or v1.7
Module for compliance with the RGPD
With this module you can generate the texts that you can use as a basis to adapt your website to the RGPD
Compatible with: Prestashop v1.6 or 1.7
The Landing Pages module for prestashop offers us the possibility of creating multiple CMS pages with content and personalized products for our website, quickly and easily. These pages have a very good indexing in search engines like Google, and help us to increase visits and improve the SEO of our store.
Compatible with: Prestashop v1.6 or 1.7
As a seller, you will have the possibility to improve your reputation by increasing the number of evaluations that your customers will make and showing them directly associated with your business information in Google My Business .
Compatible with: Prestashop v.1.6 or v.1.7
This Prestashop module creates a notice of your vacation period in your Prestashop store. The module is adapted for correct viewing on both large screens and mobile devices. It will be displayed at the top of all sections.
Compatible with: Prestashop v1.6 or v1.7
This module allows you to send emails with promotions and information to those users who, having bought on some occasion, have not bought on the web for a long time.
Compatible with Prestashop 1.6 or 1.7.
WhatsApp Popup module for mobile
This module allows you to include, in the mobile version, a floating WhatsApp icon on the page so that the customer can contact you directly.
Compatible with: Prestashop v1.6 or v1.7
The official payment modules do not have the possibility of adding a surcharge according to the payment method used. Since Spanish legislation does allow the charge of bank commissions, there are many SMEs that want to pass this commission on to the purchase.
Compatible with: Prestashop v1.6 or v1.7
This Prestashop module has promotions notices configured by price ranges and priority. When a customer adds a product to their basket and it falls within those ranges, they are shown a popup informing them of the promotion.
Compatible with: Prestashop v1.6