Module for compliance with the RGPD
With this module you can generate the texts that you can use as a basis to adapt your website to the RGPD
Compatible with: Prestashop v1.6 or 1.7
PAYMENT

We accept Visa, MasterCard and American Express.

BEST PRICE GUARANTEE

The best choice for high quality at good prices.
Module for adaptation to the RGPD
Official payment modules do not have the possibility of adding a surcharge depending on the payment method used. Given that Spanish legislation does allow bank commissions to be charged, there are many SMEs that wish to pass on this commission to the purchase.
This module will allow a simple management of these commissions, being able to configure by percentage of the total amount, with a minimum and a maximum commission.
What does the module provide?
To you
Comply with LSSI Regulations
Transparency with your clients
Avoid Penalties
To your customers
Identification
Seller Legal Guarantees
Confidence in your Purchases
Installation
The procedure is simple, and you only need the compressed file of the module.
Even so, it is necessary to meet some minimum requirements to guarantee the functioning of the module:
For Prestashop version 1.6
For Prestashop version 1.7
Administrator accounts in the backoffice with module installation permissions.
Settings
Before starting, it will be essential that you (or preferably a professional in this legal area) review and adapt the texts to the reality of your company. For this reason and as a condition to use the module, it will be necessary that at first, you indicate that you have read and understand this. Once the disclaimer has been accepted, you are ready to start using the module.
At first you must fill in the following information:
Store name
Company name
CIF/NIF
Registered address
Contact phone
Fax
Email
Domain
DPD.
With the information filled in, you can click on the "Generate texts" link so that the module generates the standard texts that you can use as a basis for adapting your website to the RGPD.
Once the texts are generated, they will be shown below and you can modify them from there. Once the texts are adapted to the reality of your company, you must copy them in the corresponding sections of your website. Sections are usually CMS pages, but you can copy/paste them to the appropriate page based on your store settings. In addition, the system generates the text for the 1st information layer of the forms in which personal data is collected. It is essential that you copy and paste the texts in the corresponding places.
This tool does NOT publish the texts, but is only a tool that will help you generate the necessary texts for GDPR compliance.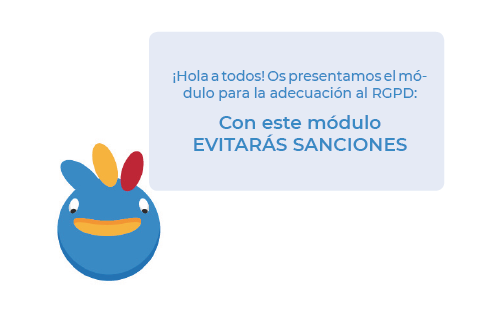 Video
16 other products in the same category: