WhatsApp Module in Prestashop: All its Advantages
Some points and extras have become increasingly indispensable for any web page. More and more requested, that chatting with your clients through WhatsApp , the most popular messaging app, only brings advantages for your website. This is one of the most popular Prestashop modules as it allows you to create stronger relationships with your customers by guiding them and assisting them in their purchases in real time.
What can this WhatsApp Prestashop module do for you?
User experience (UX) is increasingly important in terms of positioning a website. Search engines value in an increasingly positive way that the user interacts with the web page and why not? With the members of it. That is why the Prestashop WhatsApp module brings many advantages , among them being able to answer the thousands of user queries: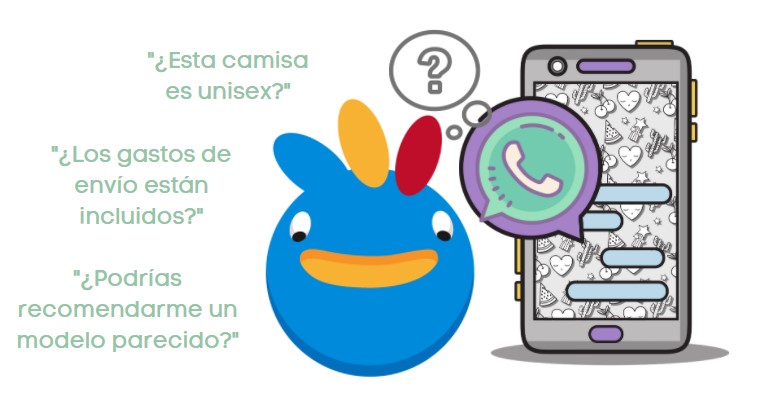 Improve the relationship with customers
Your customers will no longer need to have your phone number in their mobile phone contact list. With the push of a button, the WhatsApp app will open ready for messages to be sent to you at any time.
Possibility of messaging and calling
Although a conversation has been established through WhatsApp messages on your website and the user wants to go to more , there is the possibility of calling. Since the end of 2014, the WhatsApp call option has been one of the great discoveries in terms of online sales.
Custom schedule
You can always schedule a personalized message with the stipulated hours of the online store. Therefore, there is no concern for those who are looking for a specific time where they can receive messages or calls.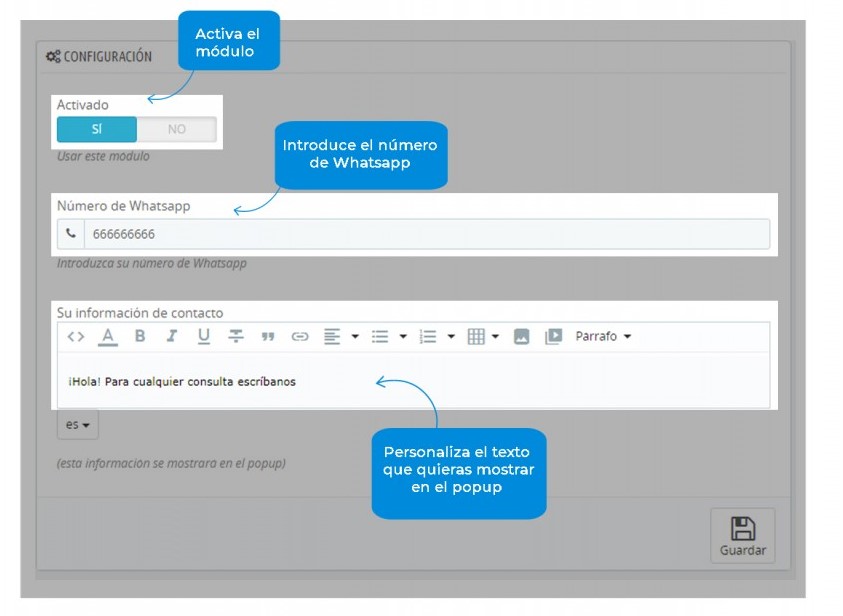 Now compatible with WhatsApp Business
Configure your professional number and take advantage of the advantages the Prestashop WhatsApp module offers to its business users. Your business will be able to interact with your customers easily, using tools to automate, organize and respond quickly to messages. Conventional landlines are supported.
WhatsApp chat increases sales
The key is that customers have someone who can guide them immediately in case they are confused or have a question that may cause them to get lost a sale. This helps eliminate bounces to other sites and ensures that shopping carts end in purchases. It has been proven that a form of contact as immediate as this is one of the measures that you can implement in your store that will convert more visits into purchases.
Live sale from a distance
Many online customers want the help of a person, live, while they make their purchases. In fact, most online consumers say that being able to have a person answer their questions while shopping online is one of the most important features an online store can offer. A online chat system gives your customers immediate access to help. Wait times are much shorter than a phone call, and customers can perform other tasks while waiting for your response.
Prestashop Whatsapp Dusnic module
Little more can be added to the infinite number of advantages offered by inserting a Whatsapp for Prestashop web . Even so, from Dusnic we want to share the experience of our closest clients who have opted for this module.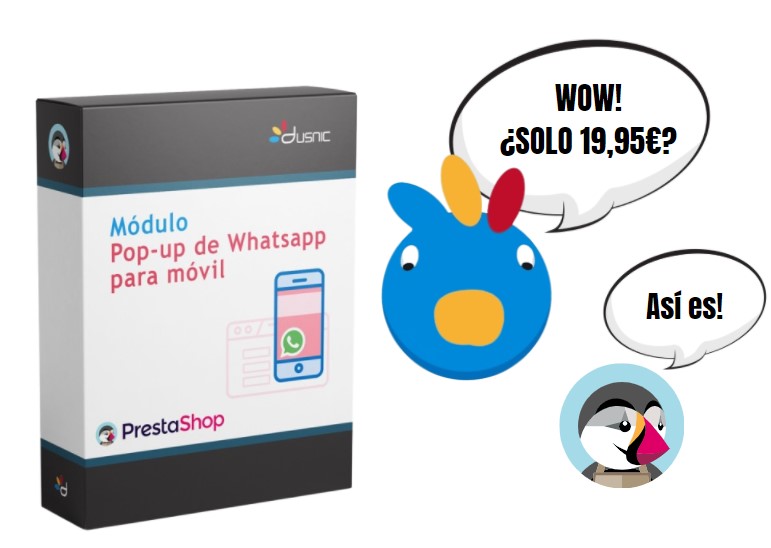 As general conclusions and after listening to the testimony of hundreds of clients and the changes and positive results they have achieved with this module, we only get positive things:
Single payment
Easy installation and customization.
Always up to date.
Immediate contact with customers.
Available for the latest versions of Prestashop 1.6 and 1.7.
Automatically detects the mobile to redirect it to WhatsApp.
Customizable messages and simple and friendly user interface.
Compatible with all web browsers.
These are just some of the conclusions that our clients who have already installed this fabulous WhatsApp module .
We help you in the installation and configuration If you have any questions, or a problem arises during the installation and configuration of the module , send us a message through the option "Contact the developer" and we will help you.